with Elena Maslova-Levin, Ph.D.
August 10, 2019 – September 7, 2019, $150.00
Learn the art of seeing from its greatest masters
"If the doors of perception were cleansed, every thing would appear to man as it is, infinite."
Willam Blake
This program is an invitation to commit just 10 minutes a day of your time, for 28 consecutive days, to expand your sense of vision and cleanse the doors of perception:
Five minutes a day to contemplate a masterpiece of painting and discover new insights into visual reality the artist has brought into the world

Five minutes a day to practice seeing through the mind's projections and discover, in your own moment-to-moment conscious experience, what the artist has shown us in the painting.
---
Unlock and practice synergistic seeing
Discover how to look at a painting in such a way as to expand your own moment-to-moment conscious experience by integrating the artist's insights into reality
The masterclass is a journey through twenty eight masterpieces, designed to open your sense of vision to the most significant insights into visible (and invisible!) reality achieved by the greatest painters after the Renaissance.
Spend 4 weeks in daily communion with Rembrandt van Rijn, Claude Monet, Paul Cezanne, Vincent van Gogh, Mark Chagall, and other masters of painting.
Expand your sense of vision
Integrate the masters' insights into your moment-to-moment visual experiences to break through the limitations on vision imposed by the mind
Transform your seeing habits to experience richer, brighter, more colorful and beautiful world
They say it takes 21 days to change a habit… In this program, we take twenty eight days to create two tightly interrelated habits:

Daily contemplation of painting masterpieces to cleanse our doors of perception, and
Daily practice of moment-to-moment seeing to deepen and enrich our visual experience of life.
---
---
There are four major steps on this journey:
Module 1: Dissolving illusions

where we learn to see through mind's projections by contemplating masterpieces of French Impressionism (and beyond)

Module 2: Color and light

The human brain has intricate "white-balance" mechanisms, which are there to help us to "see" red things as "red" in any light conditions (so as to make it easier for us to identify objects). But, however helpful it may be in some circumstances, this blocks us from consciously seeing the infinite variety of color and light present in visible reality. How to switch it off and see all the beauty "hidden in plain sight"? This is what this module is about.

Module 3: Self and space

We will look at the co-evolution of conscious experience of Self and Space, and how it plays tricks with our perception of reality.

Module 4: Time-transcendence

And finally, we will see how the illusion of time is shattered and transcended in painting. Can this transform our experience of time in "real life"? Well, let's try and see…
Each week, you will receive:
An overview video on key insights and major masterpieces of the week
A guided seeing video for one masterpiece.
Daily masterpieces of painting, with links to high-resolution reproductions, with prompts and questions, to contemplate on your own.
Daily prompts and suggestions on how to practice the new, expanded way of seeing "in real life".
---
---
Bonuses
1. Private community for sharing insights and meaningful conversations, on Sutra.co
Participation in the community is not an obligatory part of the class. Sometimes, we need to do this on our own. And sometimes it is vitally important to be able to share new insights with like-minded people, with fellow artists and art lovers. This is what this community is for, and I will be there every day to participate in the conversation.
2. Prep-week: creating and sustaining meaningful daily rituals
Best practices for creating new daily habits and integrating them seamlessly into your life. Although designed as a preparation to the masterclass, this guide can help you with any other habits or rituals you wish to integrate into your life.
3. Learning from Cezanne:
A unique companion program to Rainer Maria Rilke's "Letters on Cezanne" designed to recreate his experience of getting "the right eyes" and sharing in Cezanne's vision.
---
About me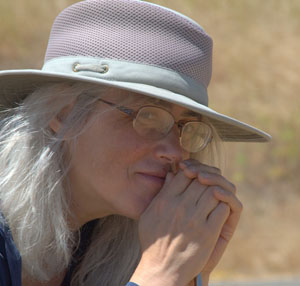 My name is Elena Maslova-Levin, and I am both an artist and a scholar.
I believe that the art of painting is here to expand our sense of vision, and our conscious experience of life (if only we allow it to).
This program crystallizes years of studies and reading, the studio experience of a working artist focused on tapping into the unified synergistic field of all Art, across time, space, and genres, and a lifetime of love for art and accumulated knowledge in the history of science, art, and philosophy.
Please contact me if you have any questions about the program.
---
---