A 7 weeks inquiry into co-evolution of art and consciousness, with Elena Maslova-Levin, Ph.D.
February 25, 2019 — April 12, 2019
Journey through and beyond Time to transform your experience of Art, World, and Self
What is Art for? What is its role — in your life, and in the evolution of humankind?
This program is an invitation to approach this question anew, with a beginner's mind…
What if Art is here to keep the humankind in touch with its own highest and truest nature?
What if it opens a portal to conscious living, to expanded vision and awareness, to seeing more so that we can be more, beyond what we have ever allowed ourselves to be:

— to be the change we want to see in the world?

What if the magnificent art of the past holds a key to humanity's emergent future?

What if it has the power to catalyze the shift in awareness so urgently needed at this critical point in our history

— the birth of a new, more beautiful world, and a new humanity?
ART In SpaceTime Experience is a journey of time-transcendence
It invites you to step outside the flow of linear time to see the unfolding co-evolution of art and human consciousness as a whole — like a mighty river can be seen from a mountaintop, like Earth is seen from the outer space.
This shift of perspective — made possible by Art itself, by its living, visible, magnificent presence — has the power to set us free from the limiting, time-conditioned ways of thinking about Self, Art and the World.
In the course of seven weeks, we will experience the unfolding of Art through the history of humankind by contemplating four key leaps in the evolution of Art, and the corresponding radical shifts in the human awareness of Self and the World:
Week 1. Cave paintings: the visible and the invisible
Week 2. The mind's ear and the mind's eye: the emergence of self-consciousness
Week 3. From Sphinx to Charioteer: Animals, Gods, Humans
Week 4: The time of cathedrals: the inner and the outer
Week 5: The Renaissance: Perspective & Mirrors, Subjective and Objective
Week 6. The self-defeating triumph of the mind: from enlightenment to modernity
Week 7: What's Now: Shattering of Space, Time & Self
We will look at how these leaps of human vision, mastery, and consciousness are connected to the present moment in our history, and to our lived experience of life — merging the past and the present, interweaving the conceptual and the experiential, integrating the logical and the intuitive, the "left" and the "right".
While no program of study would be enough to explore even a single one of these themes and approaches in any depth, there are patterns that simply cannot be seen if we look too closely. Some insights are only possible from the "spacecraft" perspective, only if we see this unfoldment as a unified whole.
It is only from this perspective that the vital role of Art in the gradual awakening of our awareness —  and therefore, in humanity's emerging future — can be fully understood and experienced. This shift expands and transforms the very context in which we see our lives, and this new, spectacularly great, context inspires us to play our biggest game and live up to our highest potential.
About me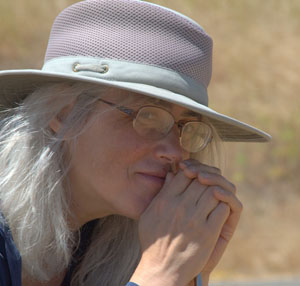 My name is Elena Maslova-Levin, and I am both an artist and a scholar. This program crystallizes and brings together decades of research in the fields of linguistic diversity and language evolution, the studio experience of a working artist focused on tapping into the unified synergistic field of all Art, across time, space and genres, and a lifetime of love for art and accumulated knowledge in the history of science, art, and philosophy.
Over the last years, I taught several experiential art programs online, designed to enrich our relationship with art and integrate its insights into our daily lives, but ART In SpaceTime Experience is an experiment, a "beta", more audacious than anything I have ever done before.
If you decide to join me on this journey, you will be part of the very first cohort of participants, a co-creator of the whole experience. However many years I spent crystallizing these insights into a unified whole, nothing can compare with what can emerge in a shared field of co-creation.
(And since our true guides on this journey will be the greatest artists and thinkers of the past, I don't really see how this can be anything but a truly spectacular experience!)
How it works
The key ideas of the week will be first introduced in an e-mail on Monday, with some questions, and images of artworks, to contemplate (and, occasionally, suggestions for further reading).
On Wednesday (10AM PST), we will meet for a seminar (on Zoom), for a live presentation of the theme of the week, followed by a open-ended conversation.

Since this is a "Beta" program, the number of participants is very limited, so

a real exchange of ideas and insights

will be possible in these conversations.
You will receive a recording afterwards, so if you have to miss a meeting, it's not a problem.
Biweekly Live Questions & Answers (Saturday, 11AM PST, starting February 23, 2019)
Private online community for ongoing discussions and questions
There are also three bonuses included with this program:
They are designed to help you integrate new ideas, insights, and perspectives into the lived experience of life, in your own creative practice (after all, conceptual knowledge means little unless it sinks deep into the experiential realm of life…)
These components are all optional: you can choose what would work best for you, or combine them all — it is completely up to you!
Inspired by greatness (every Friday, starting March 1, 2019)
Our individual growth mirrors the evolution of humanity, and these weekly e-mails are designed to help you stay in touch with this ever-present connection: to see the grand unfolding of art and human spirit we will be exploring together as the true context for your life, and your own creative practice.
Art is Present (daily practice of synergistic seeing, starting February 25, 2019)
The mere presence of great art has the power to transform our daily experience of life, and this is the intent behind this series: a masterpiece a day to contemplate (even if for five minutes only) and be inspired.

You can opt in to receive this series by e-mail, or choose to just visit our private community to see them together with other participants, and perhaps participate in a conversation about them.
And finally, and most importantly
Small Groups for Synergistic Seeing
All participants will have an opportunity to participate in a small (6-8 people) group for deep shared contemplation of individual artworks.

We have prototyped these synergistic conversations last year, and they create an incredible experience — deep, meaningful conversations in the sacred space opened to us by Art.
I will coordinate the creation of these groups, and provide an access to the Zoom platform for each group, the tested template and timeline for meetings, and — if needed — suggestions for artworks to contemplate in conjunction with the program.