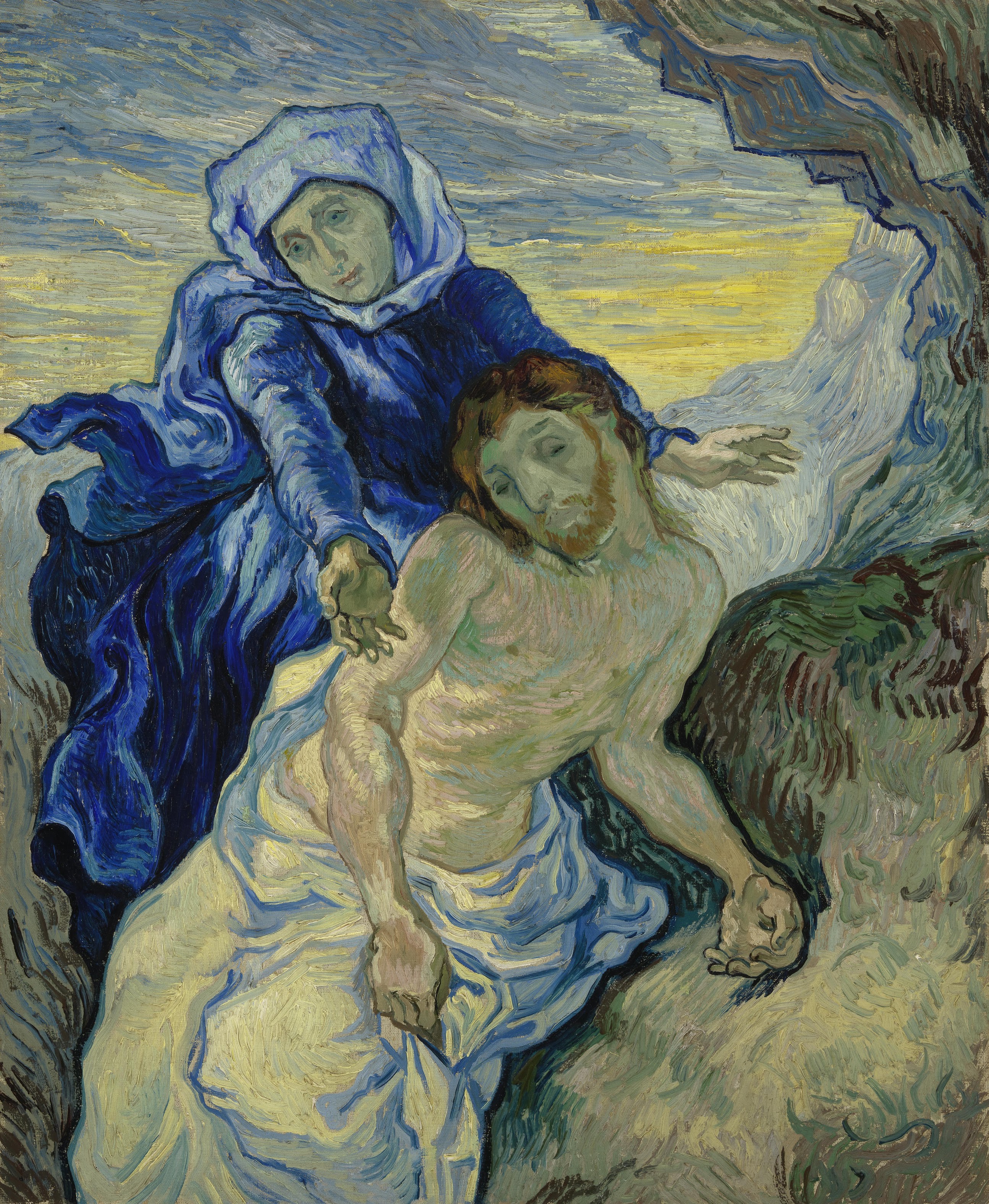 This essay's title, "on the strength of a single contradiction" comes from one of Rilke's "Letters on Cézanne" (from October 21, 1907). He writes:
… There's something else I wanted to say about Cézanne: that no one before him ever demonstrated so clearly the extent to which painting is something that takes place among the colors, and how one has to leave them completely alone, so that they can come to terms among themselves. Their mutual intercourse: this is the whole of painting. Whoever meddles, whoever arranges, whoever injects his human deliberation, his wit, his advocacy, his intellectual agility in any way, is already disturbing and clouding their activity. Ideally a painter (and, generally, an artist) should not become conscious of his insights: without taking the detour through his conscious reflection, his progressive steps, mysterious even to himself, should enter so swiftly into the work that he is unable to recognize them in the moment of transition. Alas, the artist who waits in ambush there, watching, detaining them, will find them transformed like the beautiful gold in the fairy tale which cannot remain gold because some small detail was not taken care of. That van Gogh's letters are so readable, that they are so rich, basically argues against him, just as it argues against a painter (holding up Cézanne for comparison) that he wanted or knew or experienced this and that; that blue called for orange and green for red: that, secretly listening in his eye's interior, he had heard such things spoken, the inquisitive one. And so he painted pictures on the strength of a single contradiction…
This is one of the very, very few passages in this book that makes me want to argue… in fact, I've spent the last few days arguing with Rilke in my head, not even knowing whether I am defending Van Gogh, or Cézanne (neither of whom really needs it), or (most likely) myself. This inner debate hasn't resolved itself yet, but for now, let us look at one of the paintings it led me to reconsider, Van Gogh's "Pietà after Delacroix", because it comes so very close, dangerously close, to being painted "on the strength of a single contradiction". Here is Delacroix's "Pietà", seemingly so completely different in its "mutual intercourse of colors".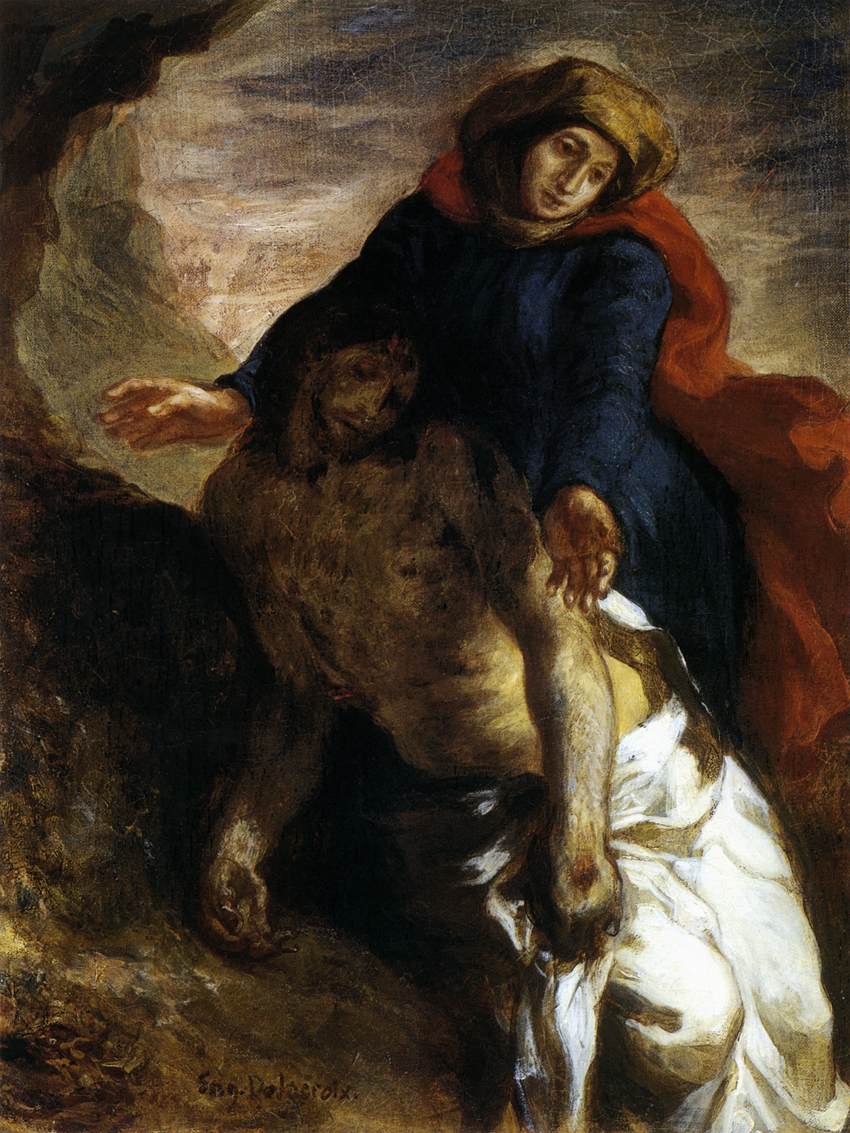 Van Gogh wrote about Delacroix, and this painting specifically, to Anthon van Rappard in August 1885:
Have you heard much about Eugène Delacroix? I've read a splendid article about him by Silvestre <…> the whole article pointed out how in his paintings the mood of colours and tone was at one with the meaning. The contrast of colours, breaking, reciprocal effect from black to white, from yellow to violet, from orange to blue, from red to green. Here's some more: Delacroix writes to a friend: 'the chapel where I painted my Pietà was so dark that at first I didn't know how to paint so as to make my painting speak. So I was forced to paint the shadows in Christ's dead body with Prussian blue, the lights with pure chrome yellow'. Here the writer adds, 'one has to be Delacroix to dare do that.'"
The boldness of Delacroix's colour choice is barely visible to the modern viewer, after all the willful excitement of the twentieth century. It would not have been lost on Van Gogh, but he never saw it in real life (he new the painting from a lithograph). This single contradiction had a striking and lasting effect on his mind's eye nonetheless: a colour motive transmitted through words alone from one artist to another. Three years later, he writes to his brother Theo:
So the whole order I made up, in other words the 3 chromes (the orange, the yellow, the lemon), the Prussian blue, the emerald, the madder lakes, the Veronese green, the orange lead, all of that is hardly found in the Dutch palette, Maris, Mauve and Israëls. But it's found in that of Delacroix, who had a passion for the two colours most disapproved of, and for the best of reasons, lemon and Prussian blue. All the same, I think he did superb things with them, blues and lemon yellows."
And later, about a green he saw in nature, which these two colours can produce when mixed:
It has become something quite different from in the spring, but I certainly have no less love for nature that is starting to get scorched as early as now. There's old gold, bronze, copper in everything now, you might say, and that, with the green blue of the sky heated white-hot, produces a delightful colour which is exceedingly harmonious, with broken tones à la Delacroix."
So here it is, the colour harmony of his "Pietà (after Delacroix)" in his own words. The description on the site of Van Gogh Museum says that he "added his own colour", but this is not quite the case, is it? Rather, he revealed the innermost essence of Delacroix's painting, as he perceived it; revealed it more directly and openly than Delacroix himself. One had to be Van Gogh to dare do that.
And yet, is it really painted  "on the strength of a single contradiction…", on this singular contrast between Prussian Blue and Chrome Yellow he was so fascinated with? If so, what about the red-orange of Christ's hair, which, in this colour context, looks almost like a halo? There have been speculations over the years about whether his red hair might indicate that it is in fact a self-portrait, but for all we know, Van Gogh wasn't prone to that kind of self-aggrandisement bordering on blasphemy (he was, after all, a pastor's son, and a former Evangelical preacher himself). If it is a self-portrait, then only in the same sense that his sunflowers, and his fields of Arles, and his blooming orchards, are all self-portraits.
What happened here is (I am sure) very close to the ideal of painting process Rilke describes in his letter: the colour of Christ's hair was called in by the mutual intercourse the yellow and the blue, and the painter didn't meddle with it — but just let the colours "come to terms among themselves".
P.S. The links for Van Gogh's letters above will lead you to this absolutely incredible free resource, a fully annotated archive of his letters, complete with reproductions of all paintings he mentions. If you are intrigued by the names of Dutch painters he compares to Delacroix, just follow the link for that letter for detailed information.