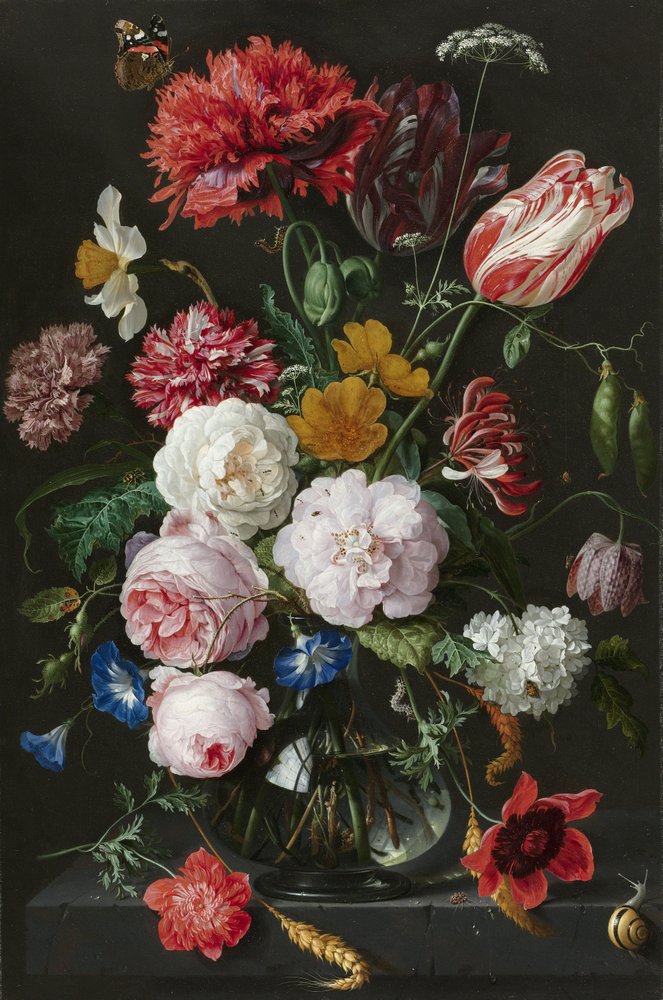 I have had an extraordinary time (travel) experience last week.
I've been painting Shakespeare's eighty fifth sonnet. It is a sonnet about refined and well-polished words of "others", and how they constrain the expression of one's own thoughts, leaving them unexpressed, "dumb".
In the painting, this contrast translated into juxtaposing two groups of flowers: a bunch of yellow roses I was painting from life (they were in front of me all the time), and a quote — two flowers from one of Jan Davidsz de Heem's floral paintings (so a high-resolution reproduction of this detail was in front of me, too).
This quote from de Heem appeared in the painting for the sake of contrast with the rough, sketchy quality of my own (postimpressionist) painting from life, so this contrast itself was intended and expected — but I had not anticipated how overwhelmingly incomprehensible it would turn out to be.
The life of a flower is short, especially after it is cut — we put them in a vase, and notice how they change day to day, and then see when their time is over. But if you try and paint a flower from life, you are bound to witness how it changes not just day to day, but (almost) minute to minute.
Nothing holds still: the tilt of its head, the position of petals in relation to one another, the shades of its colours, the nuances of light and shadows. I once had a tulip rise its head in the course of one painting session — it was apparently still "asleep" when I started, its stem bent down; when I completed the painting, the stem was erect, and the tulip looked up. The change isn't always that dramatic, but always visible enough for a painter to see.
So all one can try to really capture from life in a painting is a series of rough, fresh, moment-to-moment impressions, not a single moment in all its infinite details. Let yourself get absorbed into details and nuances as you see them right now, and they will change irrevocably before you are anywhere close to finish — leaving you with nothing but frustration.
I was painting from life — and thus living through this experience again; and at the same time, and within the same pictorial space, I was "quoting" de Heem, focusing on the stillness of his painting. And this contrast made me realise that he did somehow achieve what I had always thought impossible — to capture a single moment of a flower's life in a painting, in all its infinite and organically random details.
This might seem more possible now, with the advent of high-resolution photography — but there was no photography in the seventeenth century. Besides, this painting is not at all "photorealistic". Photorealism is just what the name suggests — it shows things how they look in photos, not how they look in reality. De Heem's flowers, however, represent the reality of direct visual experience.
A flower can "hold" all these details still but for a little moment, much shorter — by orders of magnitude shorter — then it would take to paint it. So these flowers couldn't have been painted from life, could they? And yet they have this unmistakable quality of having been really seen as unique individuals in a single moment, and painted as seen — not from imagination, not from a generalised memory of similar flowers observed on previous occasions.
So there was a time paradox right there in front of me: a miracle capable of slowing down the flow of time, creating a "time bubble" — expanding a single moment into an eternity for the painter to paint in.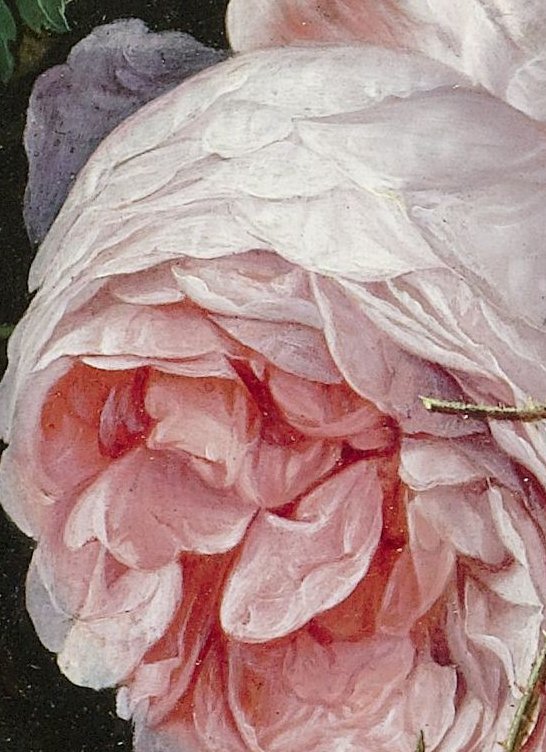 I don't want to sound mystic or sci-fi here (although the initial shock was strong enough to tempt me into these lines of thought). I am sure (well, almost sure) that this time miracle must have happened within the painter, in his inner world — without any objective time bubbles "out there". It must have something to do with how reality is perceived, analysed, memorised — in short, something to do with what happens in the brain and in consciousness.    
Although I try to read as much as I can about brain, cognition, consciousness, attention, memory, I am not even remotely an expert in this domain. But I know that, when we see a flower, our eyes register all its nuances and details within a single moment. The "picture", in all its richness and "high definition", is there within one's inner space, but — normally — just for a little moment. All this infinity of details, although perceived by senses, never reaches consciousness and is forgotten — wiped out from neural pathways — almost as soon as it is seen.
But what if, I thought, one could actually "hold" this initial infinitely rich visual impression in one's mind longer — at least long enough to paint it?
This would be an explanation for my time paradox, but is it possible? So I googled for a while, and found that there is, indeed, a phenomenon of eidetic memory — exactly the kind of memory of individual moments I had "deduced" must have existed from studying de Heem's painting.
Nowadays, they say, it is found almost exclusively in children. But it means that it is, indeed, within the range of what human consciousness is biologically capable of — so not really a miracle after all. It might well be that this capacity was more "accessible" to adults, more widespread four centuries ago, because the visual environment was so radically different from ours, with no photography, no movies, no high-speed travel.
Is it something we are losing, as a species — if only because we don't "need" it anymore, now that there is photography to "stop the time" for us? And if so, will we as promptly lose other capacities of memory — just because there is Google? I don't really know, but these are the questions that surfaced in my mind in response to this experience.
And there is one other thing.
I had always felt a kind of resistance, a need to distance myself from these Dutch/Flemish flower paintings. They always seemed too decoratively beautiful, too ornamental, too well-refined (this is why they suggested themselves as a quote for the eighty fifth sonnet, because it invokes a similar resistance to words that are too beautiful and too ornamental). This was the first time I really paid attention to these flowers; focused, concentrated attention.
But it is not the first time that I realise that a resistance one feels in response to a work of art usually means that there is something there to pay attention to, not to be brushed aside.