This morning, I came across an "infographic" on Facebook — a summary of differences between "successful" and "unsuccessful" people, presumably designed as a cheat sheet for someone striving for success in life: things like "set goals", "develop life plans", and journal every day (probably a modern take on Socrates' Life unexamined isn't worth living).
My inner response to this surprised myself: a huge wave of memory brought my Auntie Musya to the surface of my mind. If that infographic stuff is to be believed, then her life — humble, unexamined, mostly forgotten — must have been a complete failure, perhaps not even worth living.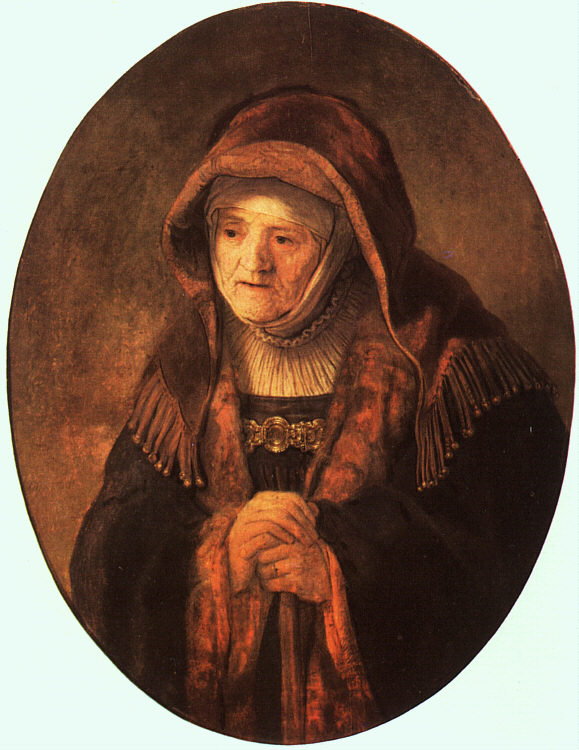 There is something about this life that reminds me of Dorothea from George Elliot's Middlemarch:
Her full nature, like that river of which Cyrus broke the strength, spent itself in channels which had no great name on the earth. But the effect of her being on those around her was incalculably diffusive: for the growing good of the world is partly dependent on unhistoric acts; and that things are not so ill with you and me as they might have been, is half owing to the number who lived faithfully a hidden life, and rest in unvisited tombs.
What sets Auntie Musya apart from Dorothea is that she wasn't at all "spiritual" or religious. She was raised as a Jew, and that's how she was buried. In-between, however, there was hardly anything Judaic in her life, with the only exception of Matzo balls soup for every Passover.
This Matzo balls soup didn't come with even a slightest attempt to give up conventional, leavened, not-Kosher-for-Passover, bread (or even pork, for that matter) — like it would for a proper Jew. Rooted as it probably was in her experience of happy childhood, before the world was torn apart by the First World War, and then the Russian Revolution, and then the Civil War, and more, this routine was a celebration, completely disconnected from its original context of deprivation in the desert. A lifetime in the twentieth century Russia must have made the very notion of deliberately depriving anyone of food for any pseudo-spiritual reasons utterly absurd…       
As a child, I sensed that nobody in the family liked this soup (even though everybody forced themselves to eat a small helping with begrudging politeness). And she felt this too, of course — there was this aura of child-like hurt and sadness about her face as she ladled out the soup. But she still made it, every year, so the responsibility of loving it fell on me… Someone just had to be there to ask for a second helping with sincere eagerness — and so I came to love the soup, with childish abandon, and I kept loving it — platonically as it were — even for some years after her death (I even made a couple of attempts to cook it myself later on — and failed spectacularly).   
My grandmother's elder sister, she lived with my grandparents as a third member of the family (she was a widow by the time I came along). You know how they say that there is a good woman in the background of every great man's life? I think she was that woman for both my grandparents. But for my childhood self, she was all about food — about keeping everyone in the her near vicinity well-fed.
The time I saw as a child was, by Russian standards, very mild and comfortable. Nobody was starving, but the whole food thing was never quite as simple and straightforward as just going to a grocery store and buying it. The late Soviet system of distributing food to the urban populace was marred by increasing shortages; it was complicated, distorted, and often murky — a combination of privilege, informal networking, black market, some pockets of normalcy, pure luck, and chutzpah. On the bright side, this hunting down of exotic, not easily available things had an exciting, quest-like quality about it — as though one still lived in the wilderness — so something as seemingly mundane as buying a can of green peas could sometimes feel like a genuine victory in the game of life.
This strange socioeconomic terrain brought out the worst in some people, but there were few in whom it brought out the best. Auntie Musya was one of them — the way she surfed this system was nothing short of majestic. She was like a queen mother, who is not really interested about why everything is going to the dogs (after all, it always does), but refuses to accept that it might have the slightest effect on feeding people she loves. In the time I remember her, she could barely leave the apartment, so she would pick up the phone, and just talk to someone out there, a gate-keeper at one of the nodes in the distorted network of food distribution, and tell them what she wanted to order — in this peaceful, queenly, deep voice. And such was the effect of this voice that they never refused — they would just deliver what she needed, or one of us would pick it up later on. Magic, really.
But the true triumph of her majestic magic of feeding everyone in the face of deprivation came much, much earlier — and I only learned about it after her death. It happened during the Siege of Leningrad, when people were dying of starvation.
She worked as an assistant manager at Leningrad University all her life. In the time of peace, her major responsibility was compiling time-tables for all classes (juggling the students' needs, the teachers' schedules, and the rooms availability as a kind of enormous multidimensional puzzle). But there were no classes during the Siege — some people were lucky enough to get away from the city; others were too weak from starvation. When the first winter of the Siege ended, a semi-solution emerged for survivors: vegetable gardens in the midst of the city. And that was what she was doing during the Siege — organising these gardens near the university building, making them work, distributing their produce.      
I sometimes try (and fail) to imagine these vegetable gardens in the midst of my native city, and this inevitably brings tears to my eyes. You need to see this magnificent, majestic city, erected by the will of Peter the Great, by inspired imagination of generations of Italian and Russian architects, with sweat and tears of Russian peasants and builders — you need to have seen its stony, cold, imperial beauty to imagine the sheer desperation, the hope without hope, of these tiny gardens in the streets around the historical university campus, planted as they were by unskilled hands of nerdy city dwellers — philologists and historians dying from hunger.
These gardens were their salvation, and that's what Auntie Musya was doing — and I only heard of it after her death, from people who credited her with saving their lives. She was like a mother to us all, these former students — now professors — kept saying. Somehow, nobody ever talked about this when she was still alive, least of all she herself.
Why?
Was it because that's what she was doing anyway, her whole life, as natural as breathing: feeding people?
It comes to me just now, once I have written down all this, that there might have been more to the Matzo balls soup thing than her childhood memories of celebratory feasts… This memory of salvation at the time when there was no bread, the inner triumph of her motherly, queenly  presence?
My mind puts her life right next to this "infographic" I saw in the morning, and to my own incessant contemplations of my life's higher purpose, of the need to surrender one's self to the whole — vanity of vanities; all is vanity.
George Elliot writes, as a kind of explanation and apology for Dorothea's invisible life:
For there is no creature whose inward being is so strong that it is not greatly determined by what lies outside it. A new Theresa will hardly have the opportunity of reforming a conventual life, any more than a new Antigone will spend her heroic piety in daring all for the sake of a brother's burial: the medium in which their ardent deeds took shape is forever gone.
But for Auntie Musya, this time — the medium that called for heroic sacrifices — did come, and she triumphed against it, resplendently: at a time where all primal instincts shouted for caring for one's own survival first and foremost, when many people lost the last shreds of dignity, consumed with hunger, when some mothers fought for bread with their children, she was feeding others — but she didn't journal about it, you see?
A life unexamined, not worth living?
Or the purity of heart that doesn't need examining?