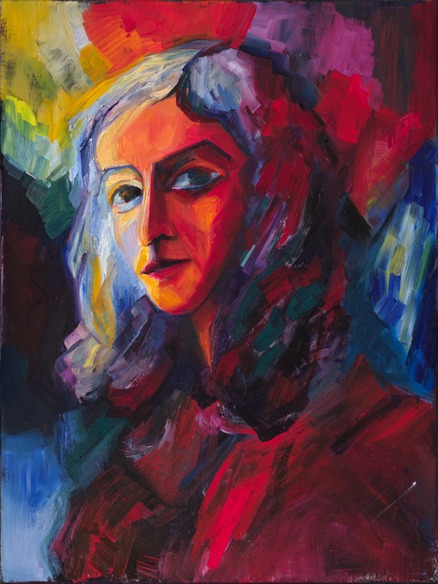 Hello, and thank you for visiting my website. I live and paint in San Francisco Bay Area, mostly from nature, but sometimes from memory or imagination. At the moment, my work revolves around a long-term series, "Sonnets in colour": painting Shakespeare's sonnets, a painting for each sonnet. The best way to follow my work on day-to-day basis is on Google+.
In terms of the modern art world, I am not even an "emerging artist", rather a non-existent one. This means you'll find here no "social proof" of the value of my work: there is none. At the moment, I find this lack of social proof, this essential nakedness — which must be frightening, for all I know — strangely liberating and invigorating. I hope that, as you browse through the galleries on this website, you feel the same freedom from societal pressures in looking at the images as I do in painting them and showing them to you — a connection either happens or it does not; you are, as I am, completely on your own.
This connection, if it happens, is one of the strangest and least comprehensible things in the world. Is it not strange that sheep's guts should hale souls out of men's bodies? — Benedick asks himself in frustration in Much ado about nothing. In a tour de force of enactment, the essence of art's magic is captured in a single line, as though accidentally, almost clownishly. In painting, it is, of course, neither sheep's guts nor simple everyday words, but linseed oil and powdered minerals heaped onto a piece of canvas; it does not make it any less absurd and miraculous.
I began to study painting at the age of eight, and these studies remained the focal part of my life for nearly ten years. I never pursued any formal college-level art education; not only because I chose to study linguistics, but mainly because all art-related activities were supposed to be ideologically important, and therefore existed under a heavier control and pressure from the government and the Communist party (which were really the same thing at the time), and this did not sit well with me.
The general framework of my early studies can be loosely described as "Russian post-impressionism". This is not an official term, I made it up just now; what I actually mean is a combination of three things:
an emphasis on impressionistic achievements in colour;
a strong influence of the Russian contemporaries of post-impressionists (Ilya Repin, Valentin Serov and Michail Wrubel);
and, strangely enough, an inherited discourse of eternal opposition to the officially approved "academism" (that the bourgeois Salon was replaced with the party-sponsored "socialistic realism" did not really matter).
My sense of vision (in the most basic sense) was shaped and defined by three constants of my childhood environment: two great museums in walking distance from home, the Hermitage Museum and the Russian Museum; growing up in a magnificent northern town, surrounded by the austere classicism of its architecture and the dominant greys of its colour scheme — colder and darker in winter, lighter and warmer in summer, close to surreal during the short periods of "white nights"; and Van Gogh reproductions filling every single available space on the walls of our apartment.
Van Gogh remains, and will probably remain forever, the single most important painter in my life, with Rembrandt and a much less famous Russian painter, Pavel Filonov, quite close by. I have also been in love with Michelangelo for as long as I can remember myself (for many years from a distance, without having seen any of his work "in person", only photos), but rather with Michelangelo the sculptor than Michelangelo the painter. It is probably not surprising, then, that Amsterdam and Florence are the only two places in the whole world where I genuinely feel that I am where I ought to be, both physically and metaphysically.
The most important poetic influences in my life — three people who, I sometimes feel, just transcendentally use my brain to keep thinking their thoughts whether I want it or not — come from three different cultures and languages: Boris Pasternak in Russian, Rainer Maria Rilke in German, and William Shakespeare in English.