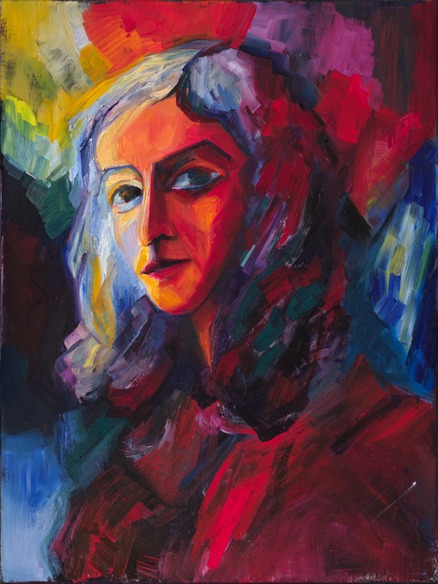 Hello, and thank you for visiting my website. I currently live and paint in San Francisco Bay Area. The core of my work is a long-term series, "Sonnets in colour": painting Shakespeare's sonnets, a painting for each sonnet, which, I expect, will take at least three more years to complete. In between the sonnet paintings, there is also a lot of other work going on: painting other poems, direct painting from life, stylistic explorations: you can browse other galleries on this website, or have a look at this CV-like summary of my life and work. The best way to follow my work on day-to-day basis is on Google+. I also have a blog, "Found in translation", where I share more general observations and meditations on painting, poetry, and life.
The goal of all of this – this website, the blog, Google+ – is a connection with you: to give to you what I have to give; to hear what you have to say. I hope that, as you browse through the galleries on this website, you will feel the same freedom and joy in looking at the images as I do in painting them and showing them to you. You will find here no "social proof" of the value of my work, no indication of its acceptance by others or lack thereof – no lists of exhibitions, acquisitions, memberships, prizes, collections and whatnot; and it also means: no societal pressures and rules, so ubiquitous in the outside world: you are completely on your own here, as I am in my studio – and a connection either happens or it does not.
This connection, if it happens, is one of the strangest and least comprehensible things in the world:
Is it not strange that sheep's guts should hale souls out of men's bodies?
— Benedick asks himself in frustration in Much ado about nothing. The essence of art's magic is here captured in a single line, as though accidentally, almost clownishly. In painting, it is, of course, neither sheep's guts nor plain everyday words, but linseed oil and powdered minerals heaped onto a piece of canvas. But it makes it even more magic and miraculous, because a painting just sits there, on a wall or on your screen. It doesn't initiate a contact with you, doesn't guide you through a story; it just silently waits to be seen. You can pass by it, you can browse away, but if you pause and see, your response to it is completely your own. This response is the final missing ingredient, absolutely necessary for the miracle to happen.

And let me be completely open here: however much joy I find in the process of painting, it multiplies tenfold when I learn that such a connection has indeed happened; this knowledge has a revitalizing, exhilarating energy to it. So please, don't hesitate to contact me if ever you feel like it: it would be lovely to hear from you, and I promise to respond.