My life as a work-in-progress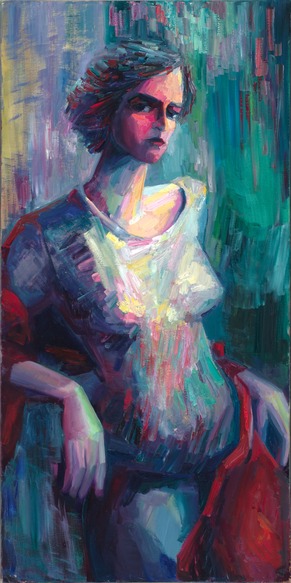 Painting
2007-present, San Francisco Bay Area, California
Sonnets in colour (January 2012-ongoing)

A major series in-progress, expected to take about three more years: painting each of Shakespeare's 154 sonnets, one by one. See the paintings...

Found in translation (May 2012-present)

Paintings inspired by poems, an inquiry into the possibilities of translating poems into paintings, and insights found in the process.

Geometry of colour (August 2012-present)

My search of post-abstractionism synthesis of colour and geometry in representation of visual experiences. See the paintings...

Nothingness (May-July 2012)

A breakthrough series, exploring the power of colour in isolation from any other representational or compositional devices. See the paintings...

So long as eyes can see (June 2012)

Lena Levin. So long as eyes can see. CreateSpace (2012): an Open Studio catalog, with comments, documenting the first period of my work in painting.

Connections (August 2011-present)

Merging my own visual experiences with quotes from masterpieces. See the paintings...

Burning ochre (2010-April 2012)

Impressionist (and post-impressionist) studies of life; rekindling my sense of vision for further work. See the paintings...
Studies (1972-1980, 2005-present)
Self-teaching (on-going)
Workshops with Elio Camacho and Larry Robinson (2007-2010)
Several painting and drawing classes at University of Berkeley Extension (2006-2007)
Regional Art School in St.Petersburg, Russia (1972-1980)
Linguistics (1988-2007)
When I returned from linguistics to painting full-time, I felt it had to be a clean break: I am a new person on a new Earth. But the more I work and make a painter out of myself, read about the history of painting and its contemporary state, refine my "voice" and my message – the further I am on this road, in fact, the more I feel that it doesn't really work like that.
The truth remains that I've been trained as an intellectual, an academic scholar, and have been living this fate, this vocation, this work for most of my adult life. These studies and this life are part of what I am, not to a lesser extent than my studio practice – and this is going to be so, I believe, so long as I live. Just as I needed a clean break into studio practice in 2007, so now I feel that the time has come for synthesis, for bringing together and unifying in my work everything I've learned and everything I've been
So here is a brief summary of the "linguistic" part of my life:
Research
Mathematical foundations of linguistic typology (1998-2007)
Typology of information structure and pragmatic organization of discourse (1990-2004)
Typology of reciprocals (1996-2004)
Yukaghir languages of Siberia (1988-2005)
Teaching
University of Bielefeld (1997-2000)
University of St.Petersburg (1993)
State Pedagogical University, St.Petersburg (1990-1994)
Academic Gymnasium of St.Petersburg (1991-1996)
Books
Elena Maslova. A Grammar of Kolyma Yukaghir. Mouton Grammar Library, 27. Berlin, New York: Mouton de Gruyter (2003)
Elena Maslova. Tundra Yukaghir. Munchen: LINCOM EUROPA. Languages of the World/Materials 372 (2003)
Elena Maslova (ed.) Yukaghir Texts. Tunguso-Sibirica 7. Harrassowitz Verlag (2001)
Education
Post-doctoral qualification (Habilitation) in General and Comparative Linguistics, University of Bielefeld, Germany
Ph.D. in Linguistics, Institute for Linguistics of the Russian Academy of Sciences, St. Petersburg, Russia
M.A. in Computational Linguistics, University of St.Petersburg, Russia.
For other publications, and for a full linguistic CV, please visit my linguistic website.