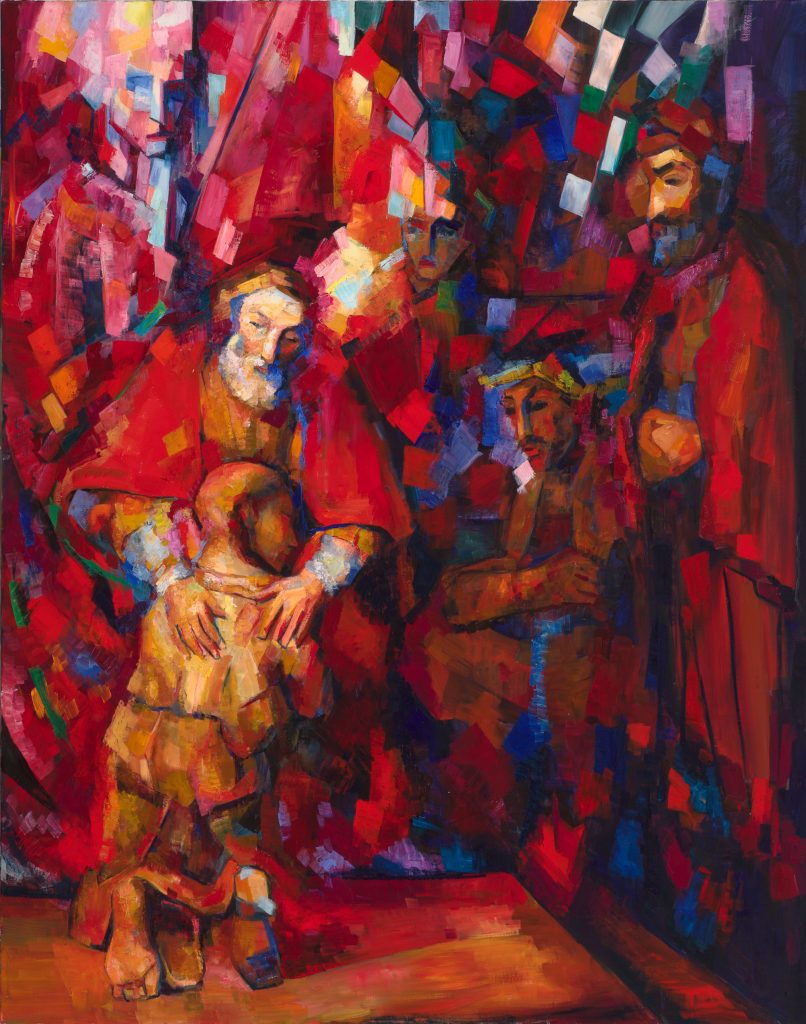 I decided to give myself a lot of time this year for a "year review". Some time for stillness and contemplation. It was such a long, full, and high-speed year. I feel as though it began just yesterday — and a decade ago, at the same time.
There is a disharmony within myself — quite matched by the palpable disharmony of the outer world. All the different pieces of the puzzle that is my life seem to be "right", all chosen by myself consciously, with love and careful deliberation — and yet they don't seem to fit together properly. Instead of forming some kind of beautiful picture, they bump into one another in the space of my days, and this brings impatience and frustration into my life. I need some time to look back and understand how to tend my garden and restore the balance within.
This painting, "The Return of the Prodigal Son, after Rembrandt van Rijn", has been a constant presence this year. I started working towards it in January, as a part of my pilot course on "Learning how to learn from masters" (the revised version of this course is now available by e-mail). Since each participant had to choose their own masterpiece to study in-depth, I decided to do the same, and to use my own work both as an example and as a way for me to reflect on this process more deliberately. I wanted to choose a painting which would be more challenging for me than anything I had done before — to match the challenges other participants in the program were courageously setting for themselves.
So, Rembrandt. "The Return of the Prodigal Son". I have written about this painting itself earlier this year, trying to recreate the experience of you (Part I, Part II, Part III). At first, I treated this project it as a "proper" study: even though I didn't quite follow Rembrandt in his technique, I tried to follow him as faithfully as I could, as a student, in the inner essence of painting. I used my own body knowledge, my own familiar relationship with oil paint and brushes — but his vision, his composition, his colour.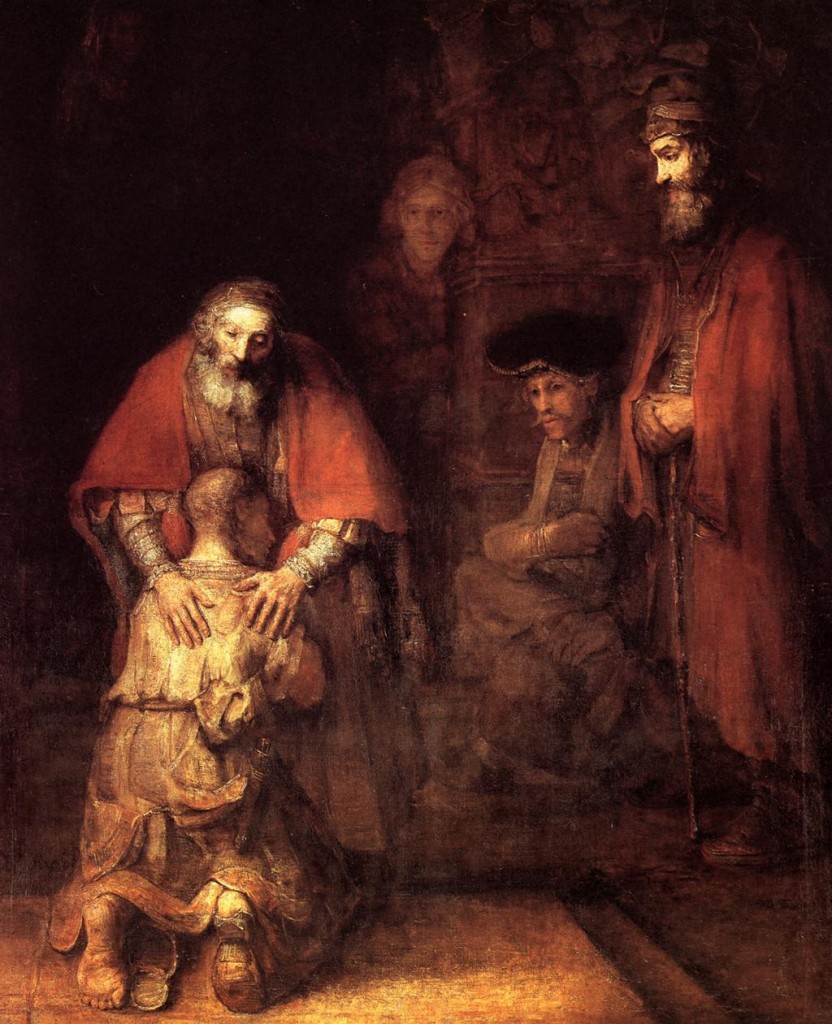 Yet at some point of this process, another version of the same painting began to emerge in my mind — a re-make rather than a study, a translation into the modern language of painting; more along the lines of what Matisse did in his still life after de Heem. I thought, at first, that it will be another painting, on another canvas. But then the transformation started to happen as though on its own, and I just went along with it.    
Apart from colour, the key deviation from the original is the barely visible woman in the upper left part of the background. She is hidden in darkness in Rembrandt; in my re-make, she is "hidden" rather in abstraction (as though she is not quite there yet). Who is she? She is not in the story of the prodigal son, but the more I worked on this painting, the more she began to seem like the key to the whole composition — a key concealed in plain sight. An eternal mystery.
Now, my painting is complete. I want to find a proper space for it — a space where people live through hard times, where support and consolation is needed: a half-way house? A refugee camp? A nursery home? A shelter? I don't know yet — but I want to donate this painting to such a space, so if you have any ideas, please write to me! Any help in this will be greatly appreciated.    
That's the thought that keeps bothering me lately, a prominent aspect of my inner discontent: that the way paintings are shared with the world nowadays keeps them away from people who really need them, and defines their dubious role as an ornament, a luxury, a decorative addition to an otherwise comfortable life. And it's not only about "private collections", but about museums, too, although to a lesser extent. Churches, I keep thinking, were really a better place for paintings — because that's where all people used to go in search of consolation, independently of their wealth and overall refinement. This is the kind of space where, I believe, this painting could play its intended part.